AFC Awards $369,000 in Fall 2022 Grant Cycle
NOV 18, 2022, TORONTO, ONTARIO—The Anglican Foundation of Canada (AFC) has announced $369,000 in funding to support ministry projects across Canada in its Fall 2022 cycle of awards. AFC's board of directors met in person on November 16–17 and awarded grants to 49 applicants across 23 dioceses and territories.
"This was one of our most geographically widespread and robust grant cycles," says Dr. Scott Brubacher, Executive Director, "driven largely by an enthusiastic response to our 2022 Request for Proposals (RFP) for Indigenous Ministries."
Particularly noteworthy from this grant cycle is the emergence of Indigenous Ministries as the top ministry impact zone, with a total of $172,000 awarded to 18 projects.
"The Board had originally authorized $100,000 for the RFP, thanks to a generous bequest AFC received earlier this year to support Indigenous Ministries. However, during the grant review process, as each project was carefully considered, it became clear that we needed to release a greater amount from this bequest to support these worthy projects." Brubacher says the Board "quickly and unanimously approved additional funding up to $132,000 so that more of these projects could receive a green light."
Summary of grants by funding category:
Building & Program Grants: $172,400
Indigenous Ministries RFP: $131,950
Bursaries for Theological Education: $35,000
Trust Applications: $30,000
Summary of grants by ministry impact zone:
Indigenous Ministries: $171,950
Diverse Infrastructure: $105,400
Leadership & Education: $65,000
Community Ministry: $22,000
Sacred Music & Liturgical Arts: $5,000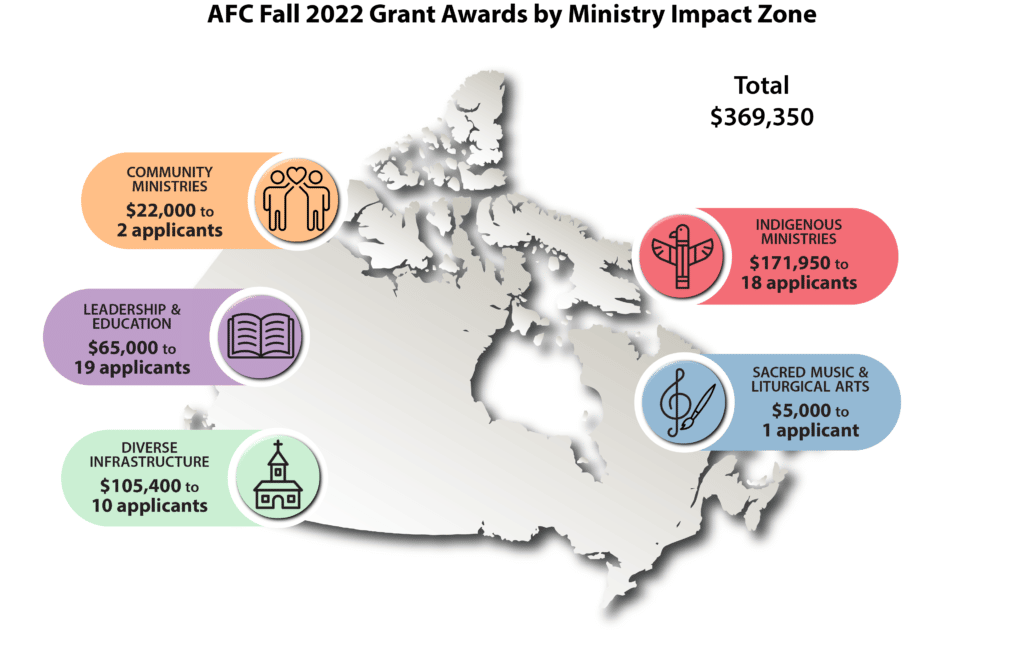 Brubacher says that between the spring and fall grant cycles, plus automatic disbursements from AFC's named trusts, and with another very successful Say Yes! to Kids campaign, he expects the 2022 grant awards will total close to $900,000.
"This was the first time since the pandemic that the majority of board directors were able to meet in person," says Brubacher. "The substance of the meeting and the spirit of deliberations truly reflected AFC's vision of being a collaborative partner with the Anglican Church of Canada and other organizations across Canada to equip communities for transformative ministry."
Brubacher says AFC will publish a list of all grant awards from this cycle once the grant recipients have been notified. The application deadline for the next AFC grant cycle is January 1, 2023. For more information on applying for an AFC grant visit, www.anglicanfoundation.org/apply.
The Anglican Foundation of Canada exists to support ministries of the Anglican Church throughout Canada, by enabling connection, fostering innovation, stewarding resources, and connecting generous donors to their philanthropic goals. For more information visit www.anglicanfoundation.org.