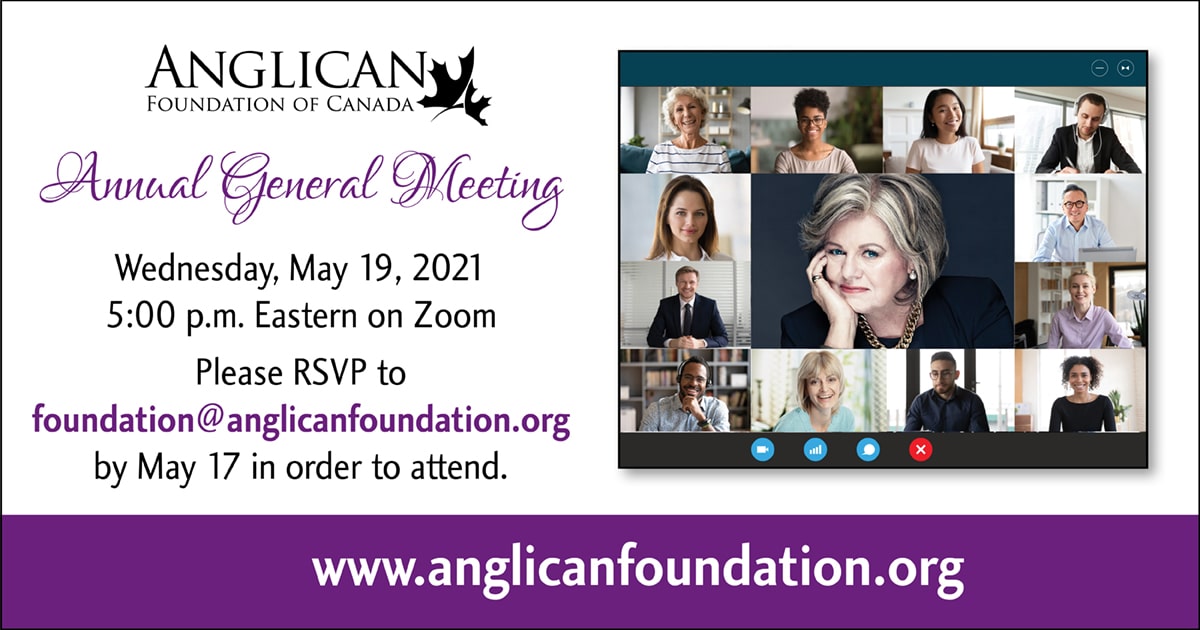 The Anglican Foundation of Canada will be hosting its Annual General Meeting of members on Wednesday, May 19, 2021 at 5:00 p.m. on the ZOOM platform.
Please complete the form below to RSVP or email [email protected]. Attendees will be provided with the meeting agenda, the Foundation's audited financial statements for 2020, and the ZOOM meeting link in the days immediately prior to the meeting.
As per our guidelines approved in 2014, "the notice of the Annual Meeting will inform the members of the names of the nine persons who will be proposed for election as Directors." In accordance with our governance structure, the following motion will be presented by the Chair of the Nominating Committee at the Annual General Meeting:
Motion: "THAT this meeting declare that the following nominees be elected as Directors of the Board of the Anglican Foundation of Canada until the next annual meeting in May 2022."
Ron Brophy – Ottawa
The Rev. Francis Delaplain – Arctic
Robert Dickson – New Westminster
Peter Fullerton – Toronto
The Most Rev. Anne Germond – Algoma
Michael Haddad – Toronto
The Rev. Amy Hamilton – Montreal
Peter Irish – Fredericton
Canon Susan Suppes (lay) – Rupert's Land
The Rev. Susan Spicer (Toronto) will be re-appointed as Director by the Board until the next annual meeting in May 2022.
The Board of Directors appointed the Most Rev. Linda Nicholls to the Office of Chair after her election as Primate in July 2019. She will be continuing in the role of Chair of the Anglican Foundation of Canada after the Annual General Meeting in May 2021, though in keeping with current practice, she is not being appointed as a voting Director.