AFC INVITES CANADIAN ANGLICANS TO TAKE A CLOSER LOOK!
"I want to encourage all Canadian Anglicans to take a closer look at AFC," says Dr. Scott Brubacher, Executive Director, Anglican Foundation of Canada, "and the April 1, 2022, grant application deadline presents the perfect opportunity for them to do that."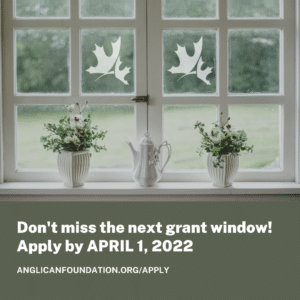 Founded in 1957, AFC remains best known for supporting church infrastructure projects. As Brubacher remarks, "That's completely understandable because for many churches, the call to imagine more has included funding for ramps, lifts, roofs, washrooms, and so much of the essential infrastructure that allows churches to welcome parishioners and reach out to community members." In the past decade, of the more than $6 million in grants and loans awarded, nationally, forty per cent went to support infrastructure projects.
In recent years, AFC has also become a major partner in innovative ministry and spiritual formation projects, funding visionary programming that reflect an increasingly missional church. The remaining sixty per cent of AFC's funding during the past decade supported other key impact zones: leadership and education, community ministries, Indigenous ministries, and sacred music and liturgical arts. These days, it's fair to say that AFC's funding extends well beyond bricks and mortar to foster a healthy, vibrant church.
Brubacher acknowledges that the first year of the pandemic presented funding challenges owing to the combination of fewer grant applications and the initial impact on AFC's investment portfolio. "2021, however, was a totally different story. Thanks to the incredible generosity of our donor family—and the energy and creativity of our grant applicants—AFC had its most impactful year ever and gave more than $1 million in grants. Let's aim that high again in 2022!"
Brubacher is inspired by all the churches who are doing great work in uncertain times. "There are a lot of people finding courageous and creative ways to do good ministry, and for those who want to branch out, AFC is both a dependable and a hopeful partner. We believe in the vital importance of the Anglican church in our Canadian context, and we're here to invest in that!"
The deadline to apply for AFC's spring grant cycle is April 1, 2022. Visit www.anglicanfoundation.org/apply for more information or email [email protected].