Youth and music are a combination that can't be beat!
This week the youth at St. George's Anglican Church in London are celebrating the arrival of instruments from around the world thanks to their 2021 Say Yes! to Kids grant. "We asked the youth what kind of a program they wanted funding for," says the Rev. Aidan Armstrong, Incumbent, "and the Music from Around the World project is what they came back with."
The church worked with a local music store to put together a versatile instrument package that would best meet the needs of young people. The percussion kit includes cajons, bongos, claves, tambourines, maracas, a cowbell, and Latin percussion eggs.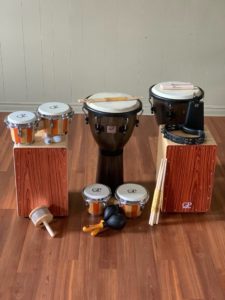 "Our youth music programming is open to young people in the church and the wider community free of charge," says Father Aidan. "As pandemic restrictions lift, we will once again have young people gathering in a safe environment where they can now learn a variety of new instruments and even have a jam session."
Music from Around the World will be a joint initiative of the youth ministry team and music team at St. George's. The church foresees these instruments in use for years to come across a variety of different ministries. Father Aidan explains, "It is also hoped that people from the community will be able to offer education and instruction about how to play the different instruments and that the program will give our youth an opportunity to learn about different cultures and traditions from around the world."
While traditional worship music is the mainstay at St. George's, Father Aidan says the new instruments have the blessing of the Music Director and he is confident the percussion kit will find its place within the overall music program. "The people of St. George's are highly supportive of their youngest parishioners. No matter what your age or interests, our church offers a rich program of ways to belong, to learn and to help others. Our young people had a vision for this and now it is ready to come to life."
St. George's London was one of 10 Say Yes! to Kids grants for arts and music programs, totaling $49,500. Other grant recipients in this category included:
Diocese of Algoma
Luke's Cathedral, Junior, Boys & Girls Auxiliaries, Christmas walk & 2022 Play, $2,300
Diocese of Edmonton
Anglican Parish of Christ Church, Diocese of Edmonton Children's Choir $10,000
Diocese of Huron
George's Anglican Church, Music from Around the World $1,800
St. Paul's Cathedral, Series of musical concerts for children $5,000
 Diocese of New Westminster
Holy Spirit Anglican Church, Enrichment Program in Music & Training $3,000
 Diocese of Nova Scotia & PEI
Parish of St Margaret of Scotland, North end Youth Ukulele Band $4,500
Ward 5 Neighbourhood Centre, After School Music Group $5,000
 Diocese of Ottawa
Epiphany Anglican Church Confirmation Choir $3,800
Church of the Ascension Rising Up: Children, Arts, and Community $5,000
Kid-Safe Productions, Help for Children & Families Through Drama, Spirituality & Music $5,000