Musical puppet play to support children's mental health strategies
Kid-Safe Productions, a 2021 Anglican Foundation of Canada (AFC) Say Yes! to Kids grant recipient, is set to launch Emotion Commotion a new musical puppet play that teaches mental health practices for children of all ages.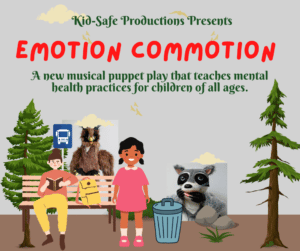 Jordan is worried and in a tizzy. DJ is feeling all kinds of mad and has a sore foot to boot. Enter a local garbage-rummaging raccoon and an owl friend to the Emotion Commotion. Using games, songs, and stories, these characters explore a range of feelings, responses and learn how to put what they've learned in an "emotion commotion toolbox."
"As a child, I never understood what anxiety even was until I was in my mid twenties," says Tricia Myles, Producer, Kid-Safe Productions. "I was a very anxious child. I always just thought there was something terribly wrong with me and that no one could help me even if I said anything. If someone had just shown me how to recognize anxiety and deal with it, I know I wouldn't have had such a difficult time growing up." Myles hopes Emotion Commotion will help young audience members to "learn to recognize their own feelings of anxiety, and then find a few simple things they can do to regulate those feelings by themselves, or at the very least, to ask for help with co-regulation."
Theatre and music have been lifelong passions for Myles and led to university studies in both disciplines. Motherhood, and long hours spent writing children's songs to sing with her son, drew her more deeply into the world of issues that affect children. "I wanted to do more to help and so I began to write stories to go with the songs, which became musical plays. I offered one of my plays to a charitable organization that deals with abuse prevention as a means to communicate the important message to children that it is important to reach out to adults they trust for help with stopping abuse." From there, Myles built a team of kindred spirits and has continued to create topical musicals and plays.
Emotion Commotion will premiere later this month in Toronto before moving to Ottawa. All performances will take place in churches, which Myles sees as excellent partners for dramatic presentations of this type. "Theatre performed in front of a church family can bring everyone together in a unique way that can't happen when you go to a theatre to see something with a friend or partner," says Myles. "Our shows offer church communities a way to keep the discussions alive at home and at church. We encourage follow up activities that allow everyone to continue exploring the topic we present in a play. In some cases, we can set up special drama workshops for older children and we provide resources for adults and parents who want to keep learning for themselves or for the children they support."
Admission to Emotion Commotion is free but advance registration is required. Visit www.kidsafeproductions.org to register to attend the performance of your choice.
TORONTO SHOWS
September 17, 10:30 am, St. Michael & All Angels Anglican Church,
September 24, 10:30 am, St. Anne's Anglican Church
OTTAWA SHOW
October 1, 2022 10:30 am, All Saints Anglican Church