"Let's go!" program engages youth in community building at St. Michael & All Angels
Not even the COVID-19 pandemic could stop the people of St. Michael and All Angels in Toronto's Wychwood-Hillcrest neighbourhood from connecting with their community. "We have carefully run active outreach ministries since the beginning of the pandemic with no cases of COVID-19 present," says Jenni King-Feheley, Lay Pastor and Director of Community Building and Spiritual Engagement.
Central to the church's community ministries are the Beeton Cupboard Foodbank, the Out of the Cold Sunday lunches, and The Underground Café that provides a safe inclusive space for up to 30 individuals every Friday morning. King-Feheley explains that throughout the pandemic the church has focused on build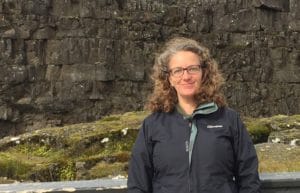 ing trust and assuring volunteers and program participants alike of firm safety measures. The net result has been an increase in the favourable reputation of the church, and an increase in the numbers of young people reaching out, asking to do volunteer work.
Enter the Let's Go! program, for which St. Michael and All Angels received a 2021 Say Yes! to Kids grant from the Anglican Foundation of Canada. "Though the children and youth are not present at these outreach programs, we give them opportunities to bake cookies and cakes for the Sunday lunches, take an active role in the annual food drive, and get their hands dirty, addressing climate change & food security, by helping out in our community food garden."
Launched this past November, Let's Go! has expanded the church's youth-oriented programs and includes the services of a part-time children and youth ministry coordinator who works alongside the growing youth volunteer network, now nearly 60 strong. King-Feheley says young people want to make a difference in their community, and Let's Go! gives them practical opportunities to do that.
While St. Michael and All Angels is a church that is programmatically diverse, King-Feheley has some simple advice for those who are seeking to branch out into community and youth-focused ministries. "Start small. Begin where God puts you not where you want to be. Our role as a church is to 'Love thy neighbour.' God says: 'Welcome the children' and that's what we're doing. It begins with the ministry of presence with our eyes open saying, 'Here I am Lord, use me.'"
Part of the church's success in connecting with young people includes the community partnerships that have been fostered over the past four years. "We have a healthy relationship with two local schools, one scout movement and two Girl Guide programs, all of whom have invited us to come and speak about food security and have joined in various ways to help those most vulnerable in our community," says King-Feheley.
To those churches that might feel anxious about attempting to partner with schools, King-Feheley says she can relate. "Five or six years ago I felt nervous, too. Reaching young people is challenging due to the decline in trust of the church universal and fears about what might be taught." Her best advice is to "Trust that God will and does show us the way. And if we are going with a hidden agenda we shouldn't go."
St. Michael and All Angels is situated in Toronto's St. Clair West corridor, between Bathurst and Oakwood. "We have many families who are financially very stable," says King-Feheley, "and a large number who are on some form of governmental assistance. Even as we receive calls from families whose children would like to help us, we also receive calls from other families who do not know how to support their children through these difficult times."
Thankfully, St. Michael and All Angels continues to strengthen community connections, for all concerned, impacting hundreds of lives for the better.
For more information about Say Yes! to Kids 2022 and how your parish can benefit from this nationwide peer-to-peer fundraising campaign visit Say Yes! to Kids – Anglican Foundation of Canada or email Michelle Hauser, AFC's Development and Communications Consultant at [email protected].