Spiritual Artworks in the Spotlight at the (in)finite Exhibition
A Celebration of the 60th Anniversary of the Anglican Foundation of Canada
(in)finite: spiritual conversations in cloth
May 25 to June 4, 2017
Christ Church Cathedral, Vancouver, B.C.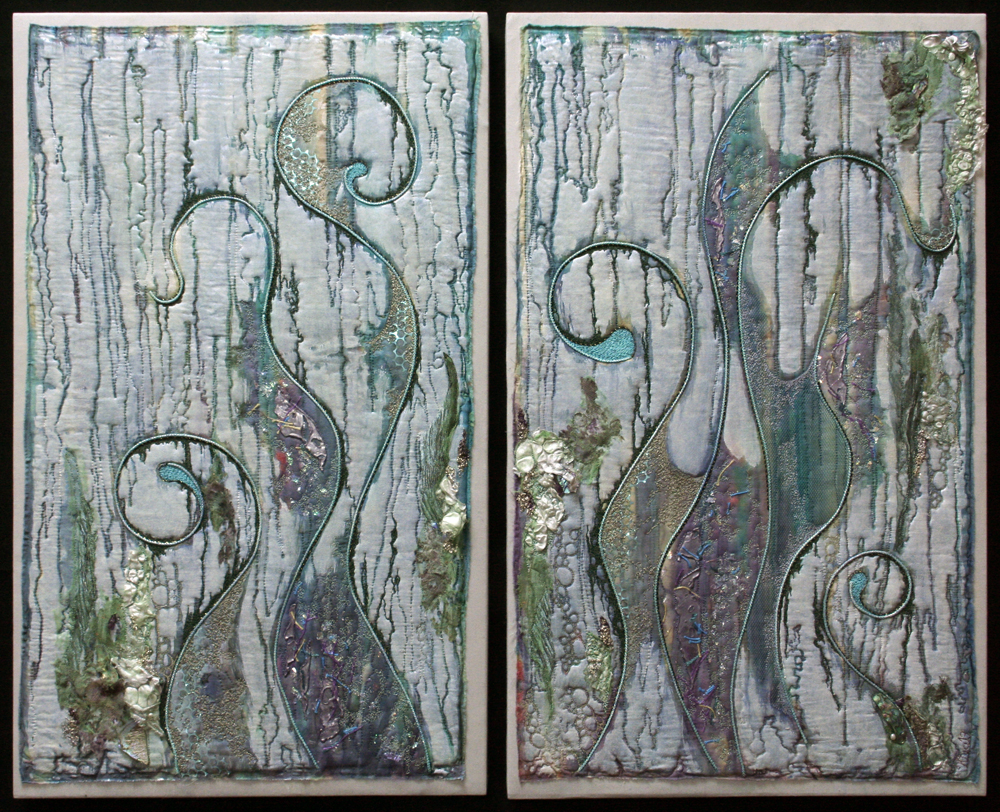 Vancouver's magnificent Christ Church Cathedral is set to showcase some truly inspirational works of art this spring.
To mark the AFC's diamond anniversary, the (in)finite: spiritual conversations in cloth exhibition explores the "finite limitations of humanity and the ineffable, infinite nature of the Divine" in a special exhibition space in the cathedral's chancel.
View selections from the exhibition.
This free exhibition places the spotlight on the work of textile and fibre artists from across Canada – and from across a diverse range of faith traditions.
Shamina Senaratne is a Port Moody, B.C., artist who has a Buddhist father and an Ismaili Muslim mother. She is also godmother to an Anglican child. Senaratne aims to embody these cultural and spiritual traditions in her work.
Made up of more than 420 six-sided pattern pieces, her Interpreting the Shadows and the Light piece is inspired by the beautiful marble jalis of Mogul architecture.
"The viewer can contemplate different perspectives in Islam – including Sufism – and in Buddhism," she explains. "Alternate views, juxtaposed in a way that requires close reflection, represent here a lifetime of internal negotiation between my two birth-heritages."
Hailing from Stirling, ON, Hilary Rice (Water=Life, image featured) works with an exciting array of materials, including embossed metals.
Rice feels her work both grounds and illuminates her: "When I am working on a piece, it feels as though my soul is singing in harmony with the rest of my being, often accompanied by a sense of meditation," she says. "My work touches and links me to the holy."
Terry Aske has been designing and creating contemporary quilts in her home studio in New Westminster, B.C., since 1998.
"Being an artist is an essential part of my spiritual journey," she comments. "It makes me happy when viewers experience an emotional response to my work – even if it is not the response I intended!"
An active member of Christ Church in Elbow Park, Calgary, AB, Lorainne Ross's Blossom banners feature two layers of hand-dyed linen, screen printing, hand stitch and appliqué.
"The transition from dense pattern and limited palette to bright colours and spacious pattern illustrates how growth towards God makes our experience brighter," explains Ross. "The little glimmers of metallic thread show how we find God's light throughout our journey."
A passionate proponent of the art of tapestry, founding both the B.C. Society of Tapestry Artists and the Canadian Tapestry Network, Vancouver's Barbara Heller is a member of the exhibition's curating circle who is also exhibiting her work.
"Medieval tapestries were often political or religious parables clothed in classical allusions," she explains. "I use this ancient art form with modern symbols and metaphors to reach people on an intuitive, emotional level."
Celebrating 60 years of providing generous funding to innovative projects that have benefited thousands of individuals, AFC's anniversary celebrations will include an opening ceremony on May 27, as well as an impressive selection of Foundation meetings and events. The 5:00 pm to 7:00 pm opening reception features notable guests and several participating artists. This event is open to the public. The (in)finite exhibition runs until June 4 at Christ Church Cathedral, 690 Burrard Street in Vancouver. Hours for the exhibition are Monday to Saturday 10:00 am to 5:00 pm and Sunday 12:00 pm to 5:00 pm.