A personal reflection by Diane Dance
In the Anglican Church of Canada, where the pace of change is known to be a little on the slow side, it's rare to see the beginning, middle, and end of a new initiative all within the same calendar year. But that's what happened in 2021 when I was introduced to the Anglican Foundation of Canada's (AFC) Say Yes! to Kids campaign and Request for Proposals (RFP).
This past winter, as AFC's representative for the Diocese of Huron, I was briefed on the campaign plan and invited to do my part to make an ambitious investment in funding youth-focused ministry and outreach a success. And what a success it has been!
This past November, AFC'S Board of Directors approved close to $650,000 in grants and bursaries to 110 applicants—and an incredible $468,000 of that was owing to the Say Yes! to Kids RFP. It is the largest one-time investment in youth-focused ministry the Canadian church has seen and touches many important spiritual and social impact zones: faith formation, resilience and mental health, food security, enrichment in arts, education, and outdoor activities—and more.
From my initial briefing on Say Yes! to Kids, to the wonderful ending that was AFC's recent Grant Awards Celebrations across the country, there has been a lot of hard work.
Quite early on I recruited my husband—the Rt. Rev. Terry Dance, retired Bishop of Norfolk in the Diocese of Huron—to join the campaign effort. Between taking care of our incredibly energetic grandchildren, and rolling up our sleeves for AFC, we have been saying Yes! to kids—in some form or another—all year long!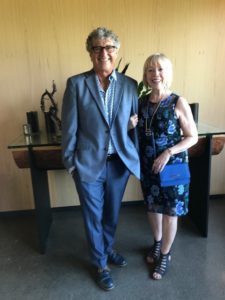 Not a week in 2021 has gone by where Terry and I haven't had something to do: advising on communications plans in the winter, campaigning for kids in the spring, encouraging ministry leaders to apply for funds throughout the summer, and—most challenging of all—reviewing some of the more than 80 applications that came in during the fall as members of the RFP Committee.
Terry and I want to thank our fellow committee members from dioceses across the country alongside whom we served in October and November. We were nine members strong, with a diversity of experience and wealth of wisdom that benefited the discernment effort. We were lay and clergy, some former and present AFC Board directors, from north, south, east, and west. We listened respectfully to one another's opinions, drew from a well of good humour when technology failed us—which it did, at times!—and reached consensus without friction.
After 2021's blizzard of activity Terry and I find ourselves, back to winter again, in the still and quiet of Advent, reflecting on a year devoted to what some have described as the birth of a youth-focused movement within the church. I hope that is true. Our committee certainly did its part: recommending the Board say Yes! to 94 per cent of the grant applicants.
There are challenges ahead, no doubt, for the leaders of the many Say Yes! to Kids projects that were green-lighted by the AFC Board. Many have received seed funding for pilot projects and must now do the tough work of launching new initiatives in a church that doesn't always embrace change. We must pray for their success.
Imagine, though, what a joy it will be to watch these projects grow: revitalizing our church and making a difference in so many lives. Terry and I are grateful to everyone who took up AFC's call to Say Yes! to Kids—either as a donor or as an applicant. We both feel deeply encouraged by the many parishes poised to undertake these new ministries—who understand that the work of the church is not simply to prop up an institution, but to change lives and give hope in a hurting world.
Diane Dance is AFC's representative for the Diocese of Huron. For more information on how to share your gifts and skills as a member of AFC's family of volunteers please email [email protected].