The Anglican Foundation of Canada is proud to support the revitalization of Indigenous languages. The Mentor–Apprentice Program—a partnership between B.C.-based Aboriginal Neighbours and the First People's Cultural Council—was a 2020 AFC grant recipient. Here, in her own words, is one participant's moving testimonial about the impact of this inspiring program.
Rae Anne's Story
I feel I cannot fully express the gratitude I feel for the Mentor–Apprentice Program, but I will try. My name is Rae Anne. I am a 38-year-old married mother of two. I was born in Cowichan, where I spent my childhood with my late grandmother, a first language speaker of Hul'q'umi'num'.
She passed away on New Years Day, 2015, and I lost the close connection I had with Hul'q'umi'num' through her. She used to tell me stories that she was told in Hul'q'umi'num' but said, "I wish I could tell you in our language because it means so much more."
When I was a child, Gramma encouraged me to master English and not to speak to her in Hul'q'umi'num' because she knew it would change my tongue, and I would be treated differently. When I was in my late 20s, she apologized, saying she didn't know the world would change and that it would become okay for me to know the language. She regretted not teaching me Hul'q'umi'num' and feared that when the last of her generation left, the language would go with them.
In 2018, I enrolled in a certificate program through Simon Fraser University focusing on Hul'q'umi'num' proficiency. There I learned the linguistics of Hul'q'umi'num' but I couldn't really speak. My granny Sarah Modeste, one of my late grandpa's first cousins, was proud of me but kept saying, "You need to come and learn from me."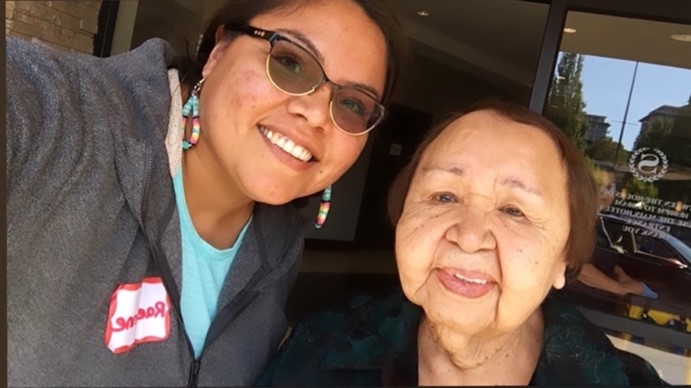 In 2019, we applied for the Mentor–Apprentice Program (MAP) and were approved. Granny Sarah is the eldest of our family now and the last of our first language speakers. Since then, we have spent two years and 600 hours together in the MAP.
In the program she keeps me on my toes work-wise, and we go back and forth sharing her stories, and I'm building on my Hul'q'umi'num'. It was slow when we started, but I am now feeling comfortable to put my own stories together. Granny Sarah told me when we started that I am going to need to learn how to tell a story because that's what we do as hwulmuhw mustimuhw (Indigenous people): we have always gotten together to sit around and xwi'em' (tell stories).
Granny Sarah also reminds me that I can't just focus on my PhD program; I must remember my family and my community, those who need the language, and never forget why I'm doing this. She's a true role model and matriarch and tells me that I can't just learn the words, I need to learn how to express myself as a hwulmuhw person so that I can pass the language on to my daughters.
What we are doing goes deeper than language. It's who we are. tsiitalu tsun tse'. hay 'ul' 'uy' nu shqwaluwun kwunus 'i' tatuluthun tthu s'aalh sqwal. I am thanking you all. I am so happy to be learning to speak our language.