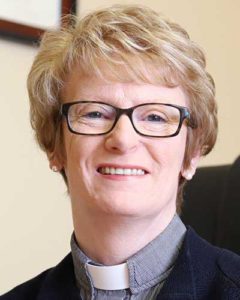 Rector, St. George's Anglican Church, Parish of Gambo
Gambo, Newfoundland
Diocese of Central Newfoundland
I have come to know about the work of AFC through being involved with parish ministry and hearing about the projects that AFC helped support over the years. While studying at Queen's College, I heard about AFC's bursaries for theological training. I applied and was the recipient of a bursary, and I am very thankful for that support. Since then I continue to follow and read about the work of the Anglican Foundation.
This past year we began fundraising efforts to replace the original wallboard, now deteriorated, cracked, and peeling in the interior of one of our parish churches, St. George's, Gambo, Newfoundland. This was an urgent project but a significant challenge for this small congregation to take on.. The congregation worked tirelessly raising funds, and with the support of a grant from AFC the goal was reachable. The impact of AFC is tremendous in helping small church renewal. Thanks, Anglican Foundation!