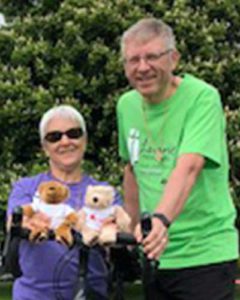 Bishop of Qu'Appelle
Regina, Saskatchewan
Receiving the support of the Anglican Foundation last year was a great boost to our efforts to raise awareness across Canada for greater unity, healing, and reconciliation. As many of you know, in 2018 I made a pilgrimage of prayer whilst cycling across Canada. At various stages and distances, from 3 to 500 km, up to 56 other riders accompanied me. As a sign of our unity of purpose all riders were given Anglican Foundation water bottles. These, and the watering stops along the way, were much appreciated, especially by the 17 riders who rode from Christ's Church Cathedral, Hamilton, to St. James' Cathedral in Toronto in temperatures above 40°C plus humidity. At various gathering and worshipping centres, bottles were also given to those who joined to learn about the ride along the way.
Two Hope Bears also accompanied my wife and me, bringing hope to many on our journey. It was heartwarming to see and witness the level of support from people of all ages and cultures across the Anglican Church and from our ecumenical partners in the faith. I thank the Anglican Foundation for the gift of the bears and for the 200 water bottles. Above all, we thank the Anglican Foundation for their continued commitment to bring unity, healing, and reconciliation to all peoples and for the amazing work they do for our beloved Church. God bless you!