St. Cuthbert's Bayview Garden invites community to discover and connect
An inspired vision that began more than a decade ago has finally become a reality at St. Cuthbert's Anglican Church, Toronto.
"This is lovely for our church," says Ian Beverley, Deputy People's Warden, and lead for the Bayview Garden project. "St. Cuthbert's was built in the pastoral care model, and there has long been an interest in trying to make the church more welcoming and open. This project is a statement of confidence, of faith, and of generosity, reflected by the fact that we're able to do this at a very difficult time. We are grateful to all of our parishioners, community donors, and to organizations like the Anglican Foundation of Canada for helping to make this happen."
The new landscape design, part of the church's larger effort to build relationship with neighbours and passersby on the busy Bayview Avenue corridor, is guided by the words of wisdom on the St. Cuthbert's purpose statement as adopted by the congregation: welcome, share, discover, and connect.
Amy Turner, a designer chosen for her specialty in ecologically informed landscapes, began working with the congregation in 2017 to develop a shared vision. Beverley says design priorities include effective digital signage on the church's high traffic corner and other enhancements to signal invitation and openness. "Along Bayview Avenue we have an imposing wall, which we're adjusting to make it more welcoming—essentially re-introducing the church to the community."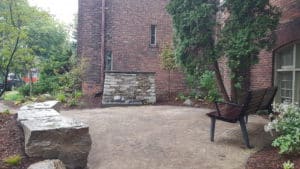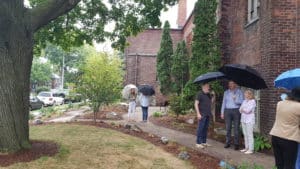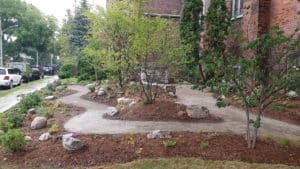 The project also called for the creation of community green space which includes a Forest Prayer Garden. "In this part of our neighbourhood there's not a lot of park space," says Beverley. "The idea is to create a restful, peaceful, welcoming space where people traveling Bayview can come and sit and relax."
The planting phase of the project features an attractive combination of native species and creates an immersive meditative environment for those who choose to linger. "The concept for the garden is forest bathing because being surrounded by nature is good for the human spirit. What is now an unused space will be a place for relaxation and reflection."
It is hard to know how many community members will use the garden now that it is finished. In the past St. Cuthbert's had a prayer box near some benches on the property where approximately fifteen people per week were submitting prayers. The garden includes signage that encourages people to pause and reflect around care for creation and other provocative biblical themes and passages.
More than anything, though, Beverley says the people of St. Cuthbert's want the church to feel more missional than pastoral. "And we want people to use the garden and enjoy it. That's why it's here."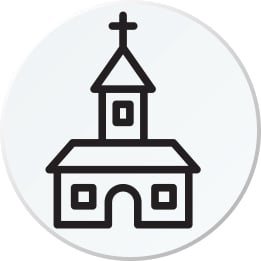 At AFC, grants for Diverse Infrastructure projects prioritize accessibility, safety, comfort, & environmental sustainability for churches old and new. Behind every grant is a generous gift from a loyal donor. To learn more about the extraordinary work of our grant recipients, download a copy of our 2021 Donor Impact Report. Thank you for supporting AFC!