The Anglican Foundation of Canada was established in 1957 to ensure that the church's ministry and missions would thrive for generations to come. Now 60 years later, this foresight has been honoured by a legacy of grants that have had a tangible and measurable impact on Canadian parishes and individual lives. Donors to the Foundation have helped make possible church construction and renovation, theological education, programs in Canada's North, community outreach, and many other vital ministries. All of these initiatives were made possible by generous individual and institutional donors who were inspired to support the people, ideas, and innovations that change lives.
Why donate to the Anglican Foundation?
Giving to the Anglican Foundation is a unique chance to be part of things that really matter to the Canadian church. Donors who make an annual contribution of $50 or more receive membership in the Anglican Foundation.
You can join with other individuals, parishes, and Anglican organizations (such as ACWs) in supporting the work of the Church across Canada through an annual contribution.
No matter what size your gift, you have the potential to:
make a significant difference for good among Canadian Anglicans and people in the wider community
learn about innovative ministry and infrastructure initiatives across the country
play an important and tangible role in the advancement and growth of Anglican ministry in Canada
Donation form available to print.
Annual donor groups
Choose an annual contribution that works for you, and know that it is making a difference.
Primate's Circle
Directors' Circle
Benefactor
Companion
Friend
$5000 +
$1000—4999
$500—999
$100—499
$50—99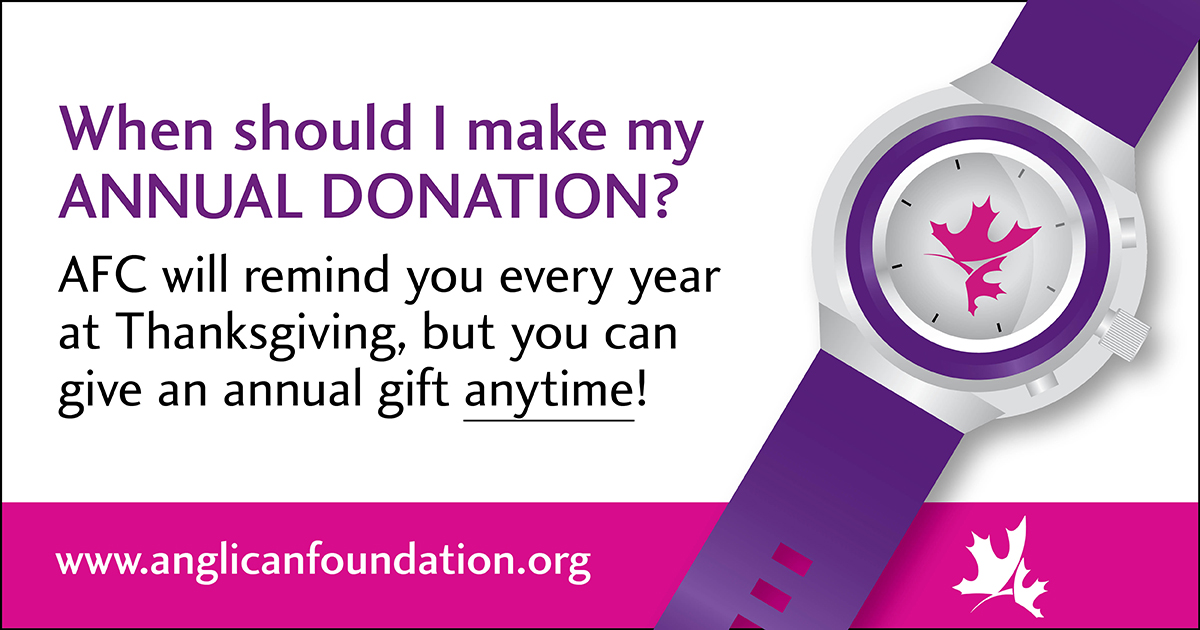 Monthly Withdrawal from your Bank Account or Credit Card
An easy way to give is by way of pre-authorized withdrawal each month. In order to arrange for pre-authorized giving, please email the Foundation office ([email protected]) or download our Pre-Authorized Giving Form. You many also contribute through Visa or MasterCard and even benefit from your credit card reward program by earning points or Air Miles!
Canada Helps
Canada Helps is a registered charity that makes it possible to donate online in an easy and secure way. There is a 3.75% transaction fee for every donation.