Spotlight on Community Ministries – Trinity House Ottawa
Growing relationships, identifying unmet needs, serving the vulnerable, affirming the dignity of every human being, and seeking to serve Christ in all persons. These are the values embraced by AFC and its supporters as we champion community ministries from coast-to-coast-to-coast.
This past spring the Anglican Foundation of Canada (AFC) awarded $35,000 in grants to exactly these kinds of ministries. This included a grant of $15,000 to Trinity Anglican Church in the Diocese of Ottawa to fund renovations to Trinity House.
"Parish leaders invested much of their time and energy to renovate the house that will be home to five students from across the country for an initial twelve months," says Ron Brophy, a member of AFC's Board of Directors from the Diocese of Ottawa, who attended the grand opening of Trinity House Intentional Faith Community on Sunday, September 18.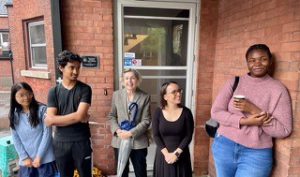 Over the next year, under the guidance of the Rev. Mark Whittall, Incumbent, the students commit to living together as part of their faith journey. As members of this intentional community, they also commit to supporting one another in their spiritual, work, and academic life.
"This project is a shining example of what the AFC does, why it exists and why the pursuit of our mission is so important to so many," says Brophy. "The AFC grant was a critical factor in this project becoming a reality."
Since 2010, AFC has provided $2.1 Million in funding to Community Ministries. With the continued support of loyal donors, local churches can be catalysts for community-building efforts that benefit a variety of vulnerable populations.