Thanks be to God for his indescribable gift!
By Dr. Scott Brubacher, Executive Director, Anglican Foundation of Canada
Butterscotch pies, molasses cookies, peanut brittle, anise candies, hand-cranked ice cream, and caramel corn: I loved all my grandmother's Christmas treats—well, maybe not the green jellied salad, with shredded carrots and lettuce suspended in gelatin. The Christmases I spent with my maternal grandparents in Michigan created childhood memories that I will never forget.
Grandma and Grandpa were not wealthy people, but they were resourceful, hard-working, and outdoorsy. From Grandma's baking to Grandpa's venison, they had everything needed to make Christmas magical for a very large family, which was no small feat. My mother was one of six children, and there were more cousins than I could count at times.
I never felt lost in the crowd, though. My grandmother took great pains to make us all feel special. She would sew, knit, or crochet something for everyone in the family, even into her late 90s. She liked to plan games for us kids, and my perennial favourite was the candy jar guessing game. Whoever came closest to estimating the number of candies inside the jar would win the jar—candies included, of course! My estimates were always done with care: I had a layer-counting and multiplication strategy that carried the day at least once!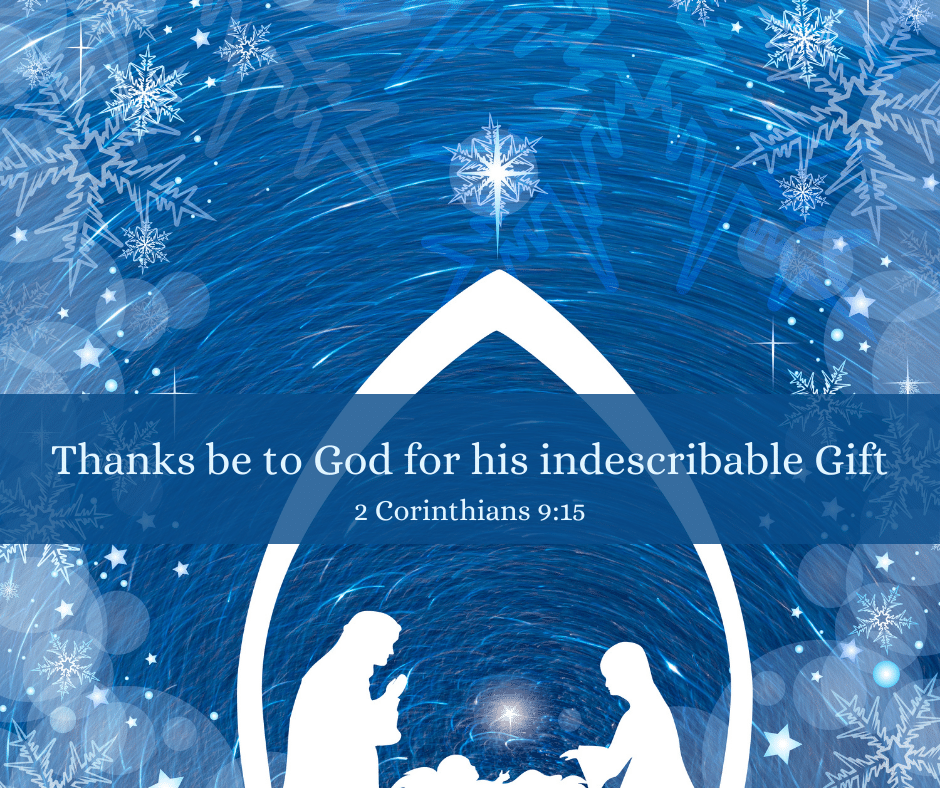 Amid all the food and fun, my grandparents' Christian faith was always the motivating force, and we all knew it. Grandma's language never failed to express her total gratitude for the spiritual gifts that we had been given. Her favourite verse, the one written on her heart as well as every Christmas card was this: "Thanks be to God for his indescribable gift."
This is my sixth Christmas at AFC, and my first as Executive Director. I work in the same office but now have a new view that I am only beginning to get accustomed to. So much has happened this year. As I reflect on 2021, knowing how close we have come to reaching the $1 million milestone in grants (we may get there yet!), I hear Grandma's voice: "Thanks be to God for his indescribable gift!"
AFC's donor family has grown more this year than any other. So many new people have come to know us and to see the foundation as a place where their gifts will make a difference by growing a stronger church.
Our family of grant recipients has grown too: more people than ever before have found courageous and creative ways to move forward in their ministries, despite the challenges and obstacles of the pandemic. Between the giving and the granting, generosity abounds.
When I think about my grandparents and the enduring values they shared with us all year long, but most especially at Christmas, I feel so grateful for having been shaped by a family that embraced giving generously and celebrating abundantly—even during seasons of scarcity—because of God's indescribable gift to us.
And I see that same spirit at work across our AFC family—among our staff, volunteers, donors, and grant recipients. As 2021 nears its end, I want to thank you all for your participation in this abundant generosity that roots our faith. Thanks be to God for his indescribable gift!