AFC's 2nd Annual Say Yes! to Kids Campaign Crests $100,000
The Anglican Foundation of Canada (AFC) is in the final leg of its 2nd annual Say Yes! to Kids campaign with more than $100,000 raised to date by 21 fundraising teams in 13 dioceses.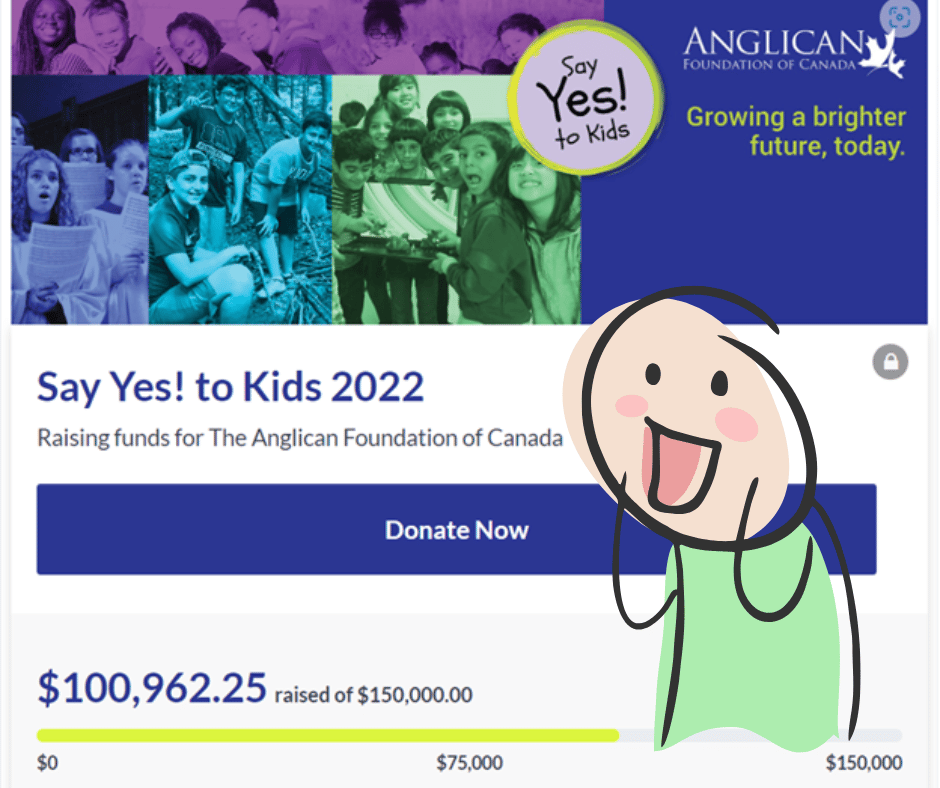 "They've walked in the cold, danced in parish halls, sung in groups, cheered, bowled, had board game marathons and more," says Michelle Hauser, AFC's Communications and Development Consultant. "Our teams have worked almost as hard at community-building as fundraising, and many of them say the campaign has been energizing for the whole parish."
Hauser says a third of the Say Yes! to Kids teams have achieved or surpassed their goals and another 5 are close to their targets. "We have 9 teams, many with stretch goals for more ambitious projects, that still have a distance to travel. The final weeks of a peer-to-peer fundraiser are when the magic really happens, though, and we're just going to keep working and encouraging one another."
Hauser says if every team achieves its aim the 2022 campaign will raise just over $200,000. Individual fundraising goals range from $2,000 to $25,000 and projects cover a variety of impact zones including: Outdoor Recreation, Indigenous Ministries, Faith Formation, Alleviating Poverty, Education Enrichment, Arts & Music.
AFC's 2021 Say Yes! to Kids campaign contributed to a resource pool to which applicants were invited to apply last fall. "The 2022 campaign is a partnership effort," says Hauser, "one that seeks to resource the local, regional, and national ministries that we know need financial support." This year's fundraising teams will retain 60 per cent of what they raise, with the remaining 40 per cent split between youth-focused ministry at the diocesan and national levels.
"Last year we knew we had hit on a real need within the church," says Dr. Scott Brubacher, Executive Director, AFC. "This year's campaign has focused on laying the groundwork for Say Yes! to Kids to be a long-term effort, one we believe can become a source of sustainable funding for youth-focused ministry and outreach across the Canadian church."
People who want to support Say Yes! to Kids are encouraged to visit AFC's campaign headquarters at www.anglicanfoundation.org/kids where prospective donors can access a team directory organized alphabetically by diocese. Hauser says individuals and churches that don't have teams are encouraged to support those who do. "Whenever we receive a gift from one church in support of another—and that has happened many times—I feel the spirit of generosity at work in this campaign. Whether we get to $200,000 or not, we are doing a good and worthwhile piece of work together as a church."
Hauser encourages donors to reach out to learn more about the individual projects. "If you have a cause that is close to your heart, there is a good chance we can match you to a team." For more information contact Michelle Hauser by phone at 613-354-6387 or by email at [email protected].