Three years of Say Yes! to Kids has transformational impact on youth in Greater Napanee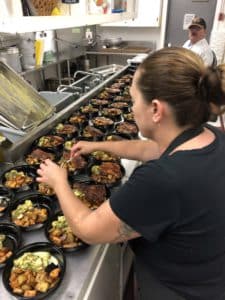 Since it was established in 2021, the Anglican Foundation of Canada's (AFC) Say Yes! to Kids (SYTK) program has been championed by Anglicans in Greater Napanee, Ontario, and has helped to secure nearly $19,000 in funding for youth outreach in this small rural community near Kingston, in the Diocese of Ontario.
2021—The SYTK Journey Begins
"The Say Yes! to Kids journey really started for this community in 2021 with a $10,000 grant to Morningstar Mission's High School Lunch Program," says Anne Alkenbrack, Chair of the Children Youth & Family Ministry Committee at St. Mary Magdalene Anglican Church (SMMAC) in Napanee, and a regular volunteer at Morningstar. Alkenbrack explains that Morningstar was founded by parishioners at SMMAC in 2002 as a food outreach program and is now the leading provider of community meals to vulnerable citizens across Lennox & Addington County.
"The High School Lunch was part of Morningstar's pandemic response, and it was a pilot project to lay the foundation for other forms of support to high school students in our area in partnership with SMMAC," says Alkenbrack. "That first SYTK grant also helped Morningstar to leverage other funding in the community and to raise awareness about the impact of food insecurity on our community's youth."
2022—Let Your Light Shine Benefit Concert
By 2022, when SYTK evolved into a partnership fundraising appeal, a vision for parish-led youth outreach started to take shape at SMMAC. "A consultation with our youth group members—known as 'The Heard'—confirmed that reigniting the annual youth retreat was important to them," says Alkenbrack. "They were longing to get back to pre-pandemic activities, but they were also keen to support a youth-oriented cause in the broader community. The church didn't have a budget to support either, so the SYTK fundraiser came at the perfect time and enabled us to raise money for both the youth retreat and the High School Lunch program."
In May 2022, the SYTK Let Your Light Shine Benefit Concert brought together performers from across the community and raised $3,800. "We were young and old, churched and unchurched," says Chris Yeomans, churchwarden, "but we were united in our desire to enrich the lives of children and youth and to play a supportive role in our broader community. Our hope then, as now, is for young people to shine as bright lights before others, with inquiring hearts that have the courage to persevere and to live fulfilling lives."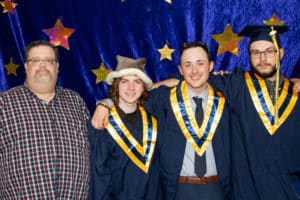 2023—Deepening Youth Arts Outreach
This spring, SMMAC was one of 17 fundraising teams involved in AFC's 2023 SYTK campaign. "This year's campaign also had dual beneficiaries," says Yeomans. "Once again, the annual youth retreat was a focus, and the community outreach also included the local high school, but this time we wanted to establish a Memorial Scholarship for post-secondary studies in music."
On Sunday, June 4, SMMAC championed Say Yes! to Kids Sunday, and held an entirely youth-led worship service. Both parishioners and friends in the community from near and far gave generously, helping the church to raise a total of $5,100. Yeomans says the new Ben Rose Memorial Scholarships align well with the church's music-focused outreach to young people through the Harmony Lounge & Music Club, which provides free music lessons to youth ages 12 to 16. "It was also a wonderful way for our church community to honour the memory of Ben Rose, a beloved organist and choir director who taught music to me and so many students across Napanee."
Yeomans says he and the leadership team at SMMAC are, "grateful to all the parishioners and many other people in our community who have given so generously to our SYTK campaigns. Most of all we are grateful to the Anglican Foundation of Canada for launching this innovative program that is having such a transformational impact on youth here at home but across Canada as well."
Since it was launched in 2021 SYTK has provided over $710,000 to more than 100 unique beneficiaries and fundraising partners in support of youth-focused ministry and outreach from coast to coast to coast. If you would like more information on becoming a Say Yes! to Kids sponsor or partner for the 2024 campaign, please contact Michelle Hauser at [email protected].