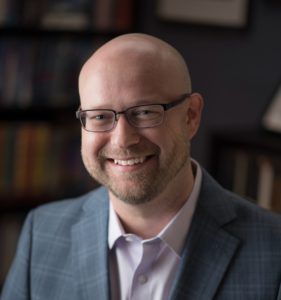 Scott Brubacher brings a rich and diverse work, academic, arts, and volunteer background to his role as Executive Director, Anglican Foundation of Canada.
For the past six years, as Executive Administrator at AFC, Scott has supported the Board of Directors and management in realizing a strategic vision for the Foundation as a catalyst for new ministry and growth. Prior to joining AFC in 2015, Scott served as Academic Program Manger, Examinations for The Royal Conservatory of Music, Assistant Manager of the Anglican Book Centre, and Lecturer in music theory at the Don Wright Faculty of Music at Western University, London, Ontario.
In addition to his professional and volunteer commitments within the Anglican Church of Canada, Scott is an award-winning composer and musician whose choral works have been performed by some of the finest choirs in Canada and the United States. Scott obtained a Doctor of Musical Arts in Composition from the University of Toronto and a Master of Music in Composition from Western University.
Scott currently serves as Chair of the Board of Directors for Exultate Chamber Singers, a charitable arts organization with which he sings on a volunteer basis. He resides in Toronto.