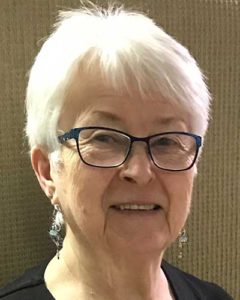 St. John's, Newfoundland
Diocese of Eastern Newfoundland & Labrador
The future can hold so many exciting moments, but who knew where a question, "Do you sew?" could lead! During an ACW Conference, I was asked that question. My friend wanted to welcome the new priest to her parish with a gift—Hope Bear with stoles for each of the Church's seasons. Perfect, I thought: five colors, fringe, appliqué! I remember wrapping them in tissue and slipping them into a brown envelope to start their journey to the other side of Canada. I was so happy Hope Bear would sit in a special place in a rectory, and as the church's year evolved, the priest would change the stole to suit the seasons.
The Rev. Canon Judy Rois contacted me sometime later, and since then I have made dozens of these stoles. Sewing those little items has been such a blessing in my life. My husband Jerry became very sick, but I kept sewing. I took the stoles to his bedside and talked to him about my venture. I saw the delight in his eyes when I held up the bright colors for him to see. It was a time of prayer and patience.
I am grateful knowing that Hope Bear will remind the owner of the church's season, be a Sunday School teaching aid, and welcome a new priest into the parish. The feel of the fabric, the colors, the unruly fringe, the discarded stole that got scorched by the iron or the perfect finished stole…remind me of life itself. God has blessed me with this creative talent, and I am humbled that I have been chosen to share it.