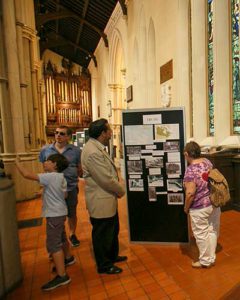 Archivist & Museum Curator, St. James' Cathedral
Toronto, Ontario
Diocese of Toronto
The mandate of the Archives and Museum at St. James' Cathedral in Toronto includes the preparation of changing exhibits in keeping with the history and interpretation of the Church within a changing society. The Anglican Foundation has assisted with three of these exhibitions. Crèches from Across the World has drawn international interest, which resulted in the cathedral acting as host of an international conference on the history of the crèche with delegates from seven Canadian provinces, twenty-eight states in the U. S., Germany, Spain and the Netherlands. The Anglican Foundation also enabled us to work with the Faculty of Medieval Studies at the University of Toronto to commission a Mystery Play for performance in the cathedral.
The most recent exhibit supported by AFC addressed Residential Schools: Truth, Apology, Healing, and Reconciliation. The exhibit travelled to Edmonton and then to Newfoundland, where it has retired. We express our gratitude to the Anglican Foundation for its support of our work.