Giving young people the gift of connection, play and joy
Young people in the Old Ottawa East and surrounding neighbourhoods are getting a long overdue chance to reconnect thanks to Church of the Ascension's Rising Up! program, funded through a 2021 Say Yes! to Kids grant from the Anglican Foundation of Canada.
"Children have experienced a much higher degree of social isolation because of the pandemic," says the Rev. Rhonda Waters, Incumbent. "It is our hope that we can contribute to pandemic recovery by sharing the gifts of connection, play, and joy with the children of our community."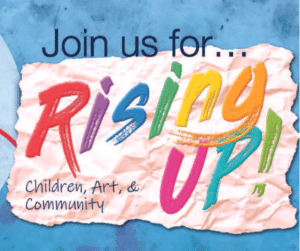 The six-week program is geared to children ages 5-9, and runs on Saturdays from 9:30 to 11:30. "We are fully subscribed for the February to March block," says Waters, "and a second block will be offered in May and June."
"Rising Up! is bringing kids into community with one another, building friendships and connections between children who might otherwise never meet," explains Waters. Rising Up! does not include any religious teaching or formation. "Ascension believes that creativity and play are good for the soul. Rising Up! is meant to provide an open and inclusive space for children of all backgrounds.
The first half of each Saturday session is held outdoors with an emphasis on movement before going inside for a snack and a COVID-safe quiet activity with an emphasis on visual arts. The program is being delivered in partnership with Sarah Posthuma, a local arts educator, and is further supported by parish volunteers.
"The programs Sarah facilitates are playful and fun," says Waters, "and Rising Up! is geared to be accessible to children from diverse backgrounds, including participants whose first language is not English and children with a physical or intellectual disability."
Each six-week session is offered for a nominal registration fee of $50. "Thanks to the Say Yes! to Kids grant we have been able to keep the program low-cost and to provide fully subsidized spaces to encourage access to the program for families on a low income."
For more information about Say Yes! to Kids 2022 and how your parish can benefit from this nationwide peer-to-peer fundraising campaign visit Say Yes! to Kids – Anglican Foundation of Canada or email Michelle Hauser, AFC's Development and Communications Consultant at [email protected].