AFC's 3rd ANNUAL SAY YES! TO KIDS CAMPAIGN TO LAUNCH APRIL 11
The Anglican Foundation of Canada (AFC) is gearing up for the 3rd annual Say Yes! to Kids (SYTK) campaign. "Last year's campaign was a great success," says Michelle Hauser, AFC's Development and Communications Officer, "with 21 fundraising teams in 13 dioceses having raised $150,000. This year we are hoping for even bigger and better results as more parishes decide to be part of this youth-focused movement."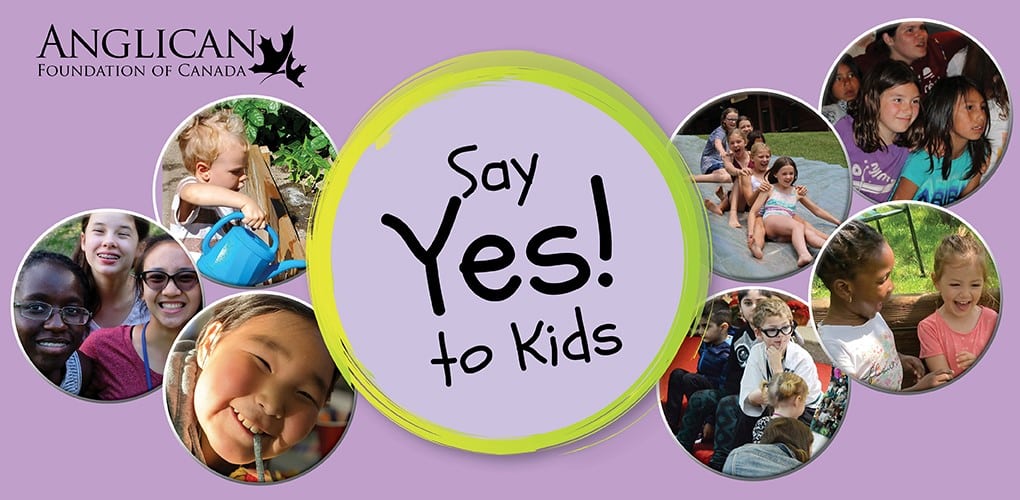 Hauser says the 2022 fundraising teams held a variety of fun, community-building events. "They walked, danced, sang, cheered, bowled, had board game marathons, and more." More than half of the SYTK teams achieved or surpassed their goals, and the rest came very close to their targets. "Some of our teams had stretch goals for more ambitious projects," says Hauser, explaining that individual fundraising goals ranged from $2,000 to $25,000 and covered a variety of impact zones, including outdoor recreation, Indigenous ministries, faith formation, alleviating poverty, education enrichment, and arts and music.
Hauser says SYTK 2023 will look very much like the 2022 campaign. "We will launch on Tuesday, April 11, and close on June 30. Parishes can choose the fundraising activity that suits them best, but our team will help with fundraising ideas. And we are absolutely working to identify donors who will support the matching gift program, which has been very successful in boosting campaign revenue."
The most noteworthy change to the 2023 campaign is the revenue sharing formula. "This year local teams will retain 80 percent of their campaign revenue, including any matching gifts. The remaining 20 percent will be retained by AFC to increase the Kids Helping Kids Fund, which will enable even more youth-focused grants across Canada." Hauser says AFC will cover the costs of running the campaign from the Foundation's share.
"The Board and staff are excited about SYTK 2023," says Dr. Scott Brubacher, AFC's Executive Director. "We see the potential for this campaign to nurture green shoots ministries across Canada. And this partnership appeal is yet another innovation of AFC that we believe can strengthen parishes for 21st-century fundraising, while also becoming a source of sustainable funding for youth-focused ministry and outreach across the Canadian church."
To learn more about the SYTK 2023 campaign you can download the SYTK 2023 FAQs sheet, sign up to attend an AFC Grants Program Webinar or reach out to Michelle Hauser at [email protected]. To see some of the good work of past SYTK partners visit AFC's SYTK hub at: www.anglicanfoundaiton.org/sytk.