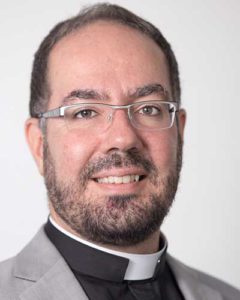 Vicar General & Executive Archdeacon
Montreal, Quebec
Diocese of Montreal
I've known of the work of the Anglican Foundation and have followed its work for over 20 years. More recently in my capacity as Vicar General and Executive Archdeacon of the Diocese of Montreal, I have been more engaged with the work of the AFC, ensuring continued support from our diocese and helping parishes engage in the work of the Foundation.
Many AFC grants have supported our heritage buildings, helping ensure that our places of worship are safe and continue to witness to the glory of God. But, they've also allowed many of our parishes and leaders to dream of new ways of engaging the world and providing the necessary seeds to see those dreams come to fruition through mission outreach, education, and ministry initiatives in the wider Quebec community engaging with children, youth, young adults, and seniors, working with the homeless in the metropolitan areas, engaging with refugees and vulnerable populations, making our facilities accessible, reducing our carbon footprint, and being good stewards. AFC grants and loans have allowed parishes to take that bold step forward in their ministry plans with the financial support they need to begin and continue work and ministry.