Young Beekeeper program bridges learning, science, and talking about God's creation.
At St. John in the Wilderness, Bright's Grove, Ontario, the latest round of thinking "outside the box" led church leaders to channel their efforts on what was already in the box: about 50,000 buzzing bees.
"It kind of happened organically," says Haley Walker, a long-time parishioner who became a beekeeper in 2018 under the guidance of fellow parishioner Doug Winch. Both were instrumental in the Wilderness Pollinator Garden and Beehives project for which St. John's received a $5,000 grant from the Anglican Foundation of Canada's (AFC) 2020 Climate Care Request for Proposals (RFP).
"When we brought the bees to the church, everyone in the neighbourhood loved them, and kids were really interested in them," says Walker. After having seen another local group conducting beehive tours for children, she began wondering about creating a young beekeeper's initiative. She piloted the project with her 3-year-old nephew, and it proved to be a winning concept.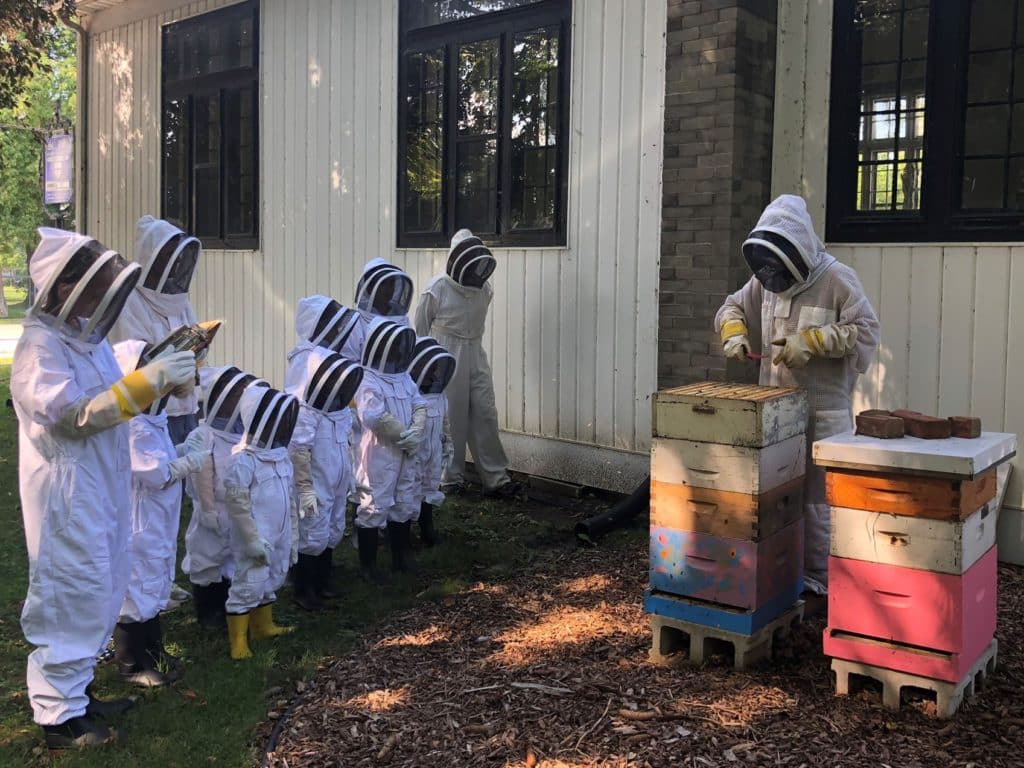 At the same time, Walker says St. John's ACW group had been looking for ideas for Vacation Bible School (VBS) that might help encourage people in the community to come back. "There aren't many churches offering a beekeeper-themed VBS." When AFC's 2021 Say Yes! to Kids RFP came along, the church applied, and it proved to be the perfect funding opportunity at the perfect time.
"We did one full beekeeping-themed day as part of our VBS this past August, and we will try to do several more next year," says Walker. More than a dozen kids, ages 3 to 14, turned out to learn, ask questions, explore, and sample some the fruits of the bees' labours. "We had a honey tasting," says Walker, "and the kids learned that the taste of honey varies depending on the flowers it comes from."
After crafts and games to "get the sillies out" Walker says the kids donned their bee suits—which was itself hugely exciting for them—and bravely went inside the hive. "Everyone did well when they were in the hive," explains Walker. "We spent about an hour inside and all the kids were able to collect a little honey from the hive. We were able to show them the pupas and the worker bees and the flying bees. We didn't find the queen bee—she's one in ten thousand so it's hard to find the queen bee."
Walker says parents were happy to see their kids having fun and loved the program for bridging learning, science, and talking about God's creation.
According to Walker the bee suits were not hard to find, and she partnered with a local beekeeping supply store to gear up and to get some advice about making the program fun and safe. "We had EpiPens on site," says Walker who admits that even ten years ago the congregation might not have had the confidence for this kind of innovative program, especially with young people. "It has been a journey getting us to where we are. But I've found that once we say yes to one thing, it has been yes, yes, yes, ever since then." Momentum has played a huge part in the church's transformational journey and building their capacity for community-focused programs that showcase the congregation's commitment to creation care.
To learn more about this and other Say Yes! to Kids projects visit AFC's SYTK communications hub at www.anglicanfoundation.org/sytk or contact Michelle Hauser, AFC's Development and Communications Officer at [email protected].