From Vision to Realization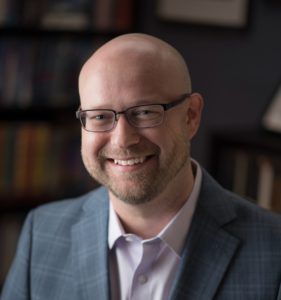 There's a special sort of joy we feel when a vision becomes reality. That sense of arrival, of accomplishment, of hard work bearing good fruit. For me, as a composer, this process works itself out creatively from preliminary melodic sketches to placing the double bar line at the end of a piece. At the Anglican Foundation of Canada (AFC), we see this process repeated among our grant recipients, when a visionary leader—or a community embracing a shared purpose—identify a need, articulate their plan, receive the support of the national church and local community, and eventually make their dream come to life.
I experienced that joy again this week, albeit in a different way, at the meeting of AFC's board of directors, as we approved some final changes to our expanding grants program. More on that below. This sense of accomplishment, though not related to music, was no less personal. Many of you recall that for six years prior to becoming the Executive Director of AFC I worked in the office overseeing the grants process. During that time, I shepherded approximately 700 applications through the grants pipeline—from creative vision, to describing the case, to funding approval, to final result—and I came to know many inspiring and visionary Anglicans across Canada, from coast to coast to coast.
One of AFC's fundamental values is generosity, in response to God's abundance, and AFC has a remarkable history of generosity when it comes to the grants program. During its 65-year history, AFC has disbursed over $40 million. 2021 was our most generous year on record, with over $1 million disbursed; and 2022 came very close to that total as well, with $950,000 in funding awarded. The spirit of generosity emanating from the board towards applicants is palpable. We want applicants to succeed. In fact, since 2010 AFC has approved more than 90% of all grant requests.
When I became Executive Director in fall 2021, the board was already engaged in a strategic planning process for 2023–27. Our mission was expanding to become a full collaborative partner with the Anglican Church of Canada, with a vision to equip communities for transformative ministry. In my first official report to the board, I identified a major priority: to activate AFC's funds for greater impact—specifically to extend the granting eligibility for maximum impact, to redefine grant categories, to allow for smaller grants where there are not matching funds available, and to expand the upper limit so that AFC could be a major player in important projects that aligned with our purpose. The board affirmed these "melodic sketches," and as the strategic planning process unfolded through the last 18 months, this became, literally, the primary goal in the plan: to increase the impact of AFC's grants and loans and to expand categories of applications, while streamlining and facilitating the process for applicants.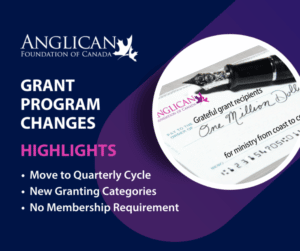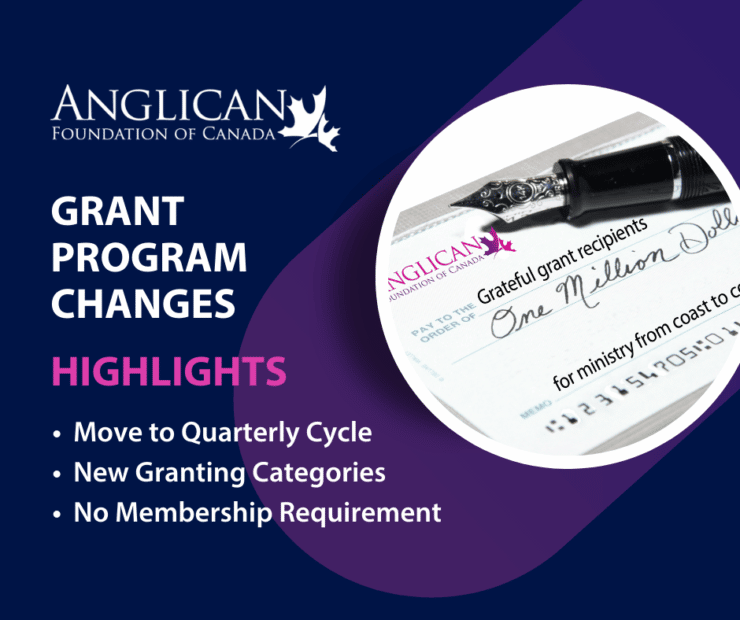 To that end, in mid 2022 the board struck a Grants Policy Working Group to examine all aspects of the grants process and to make recommendations. The initial changes were announced last fall, which included moving to a quarterly application cycle, and the introduction of Category A and B grants.
The board then approved the introduction of  Category C grants of up to $50,000 which will enable AFC to make a major contribution in places where the need is greatest. The piece was gaining momentum, the initial melodies growing into a thematic section.
Some final changes were approved by the board this week. Beginning in 2023, all dioceses, ecclesiastical provinces, and General Synod will be eligible to apply for an expanded quota of four Category A or B grants per year. Theological colleges and religious orders are still eligible to submit one Category A or B grant application per year.
AFC's funding impact zones have been redefined, so applicants will now choose between: Diverse Infrastructure, Community Ministries, Leadership & Education, Indigenous Ministries, and Sacred Music & Liturgical Arts. In order to encourage dioceses and applicants to imagine more, beyond the bricks and mortar of our physical structures, a maximum of three applications each year may be for Diverse Infrastructure.
In order to streamline and facilitate these changes, AFC is launching a new Grant Application Portal, where all grant applications may be submitted on a streamlined, savable, digital form. Trust applications will now use the harmonized application form, and these applications will become part of the diocesan quota.
And so, the work of the last 18 months comes to a conclusion—the last notes, the final bar line of this piece, but perhaps only the first movement of a new symphony that remains to be realized, as AFC's strategic plan unfolds through the coming years. We hope that this newly realized grants program will stimulate conversation in your diocese, encouraging Anglicans with unique vision to seek out AFC support to bring their projects to fruition. We look forward to hearing the grant recipient reports and sharing in that joy of accomplishment again and again over the years to come, as we move forward with hope and a spirit of generosity.
Dr. Scott Brubacher
Executive Director
P.S. Please don't miss the series of Grants Program Webinars we are running to help familiarize people with all of these changes and how to navigate the new grants portal. You can register here: Grants Program Webinars – Anglican Foundation of Canada